Welcome to the first day of my Valentine Craft Series!
I've got lots of fun projects lined up for this week. I hope you'll join us every day for a new tutorial.
Don't forget about the
Pinterest Party
on Sunday! Have you decided what you'll be making? :)
Today, I'm going to show you how to make this sweet little Valentine tutu
Cast of Characters:
♥A few yards of tulle (this is cheapest off the bolt, but you can also buy rolls of it which make your job easier)
♥3/4in elastic
♥rotary cutter/mat--if you have one, otherwise, just a good ol' pair of scissors
♥pretty ribbon to add as decoration (optional)
To begin, measure your sweet munchkin's waist with the elastic
Subtract 2-3 inches from the band length (Kayleigh's waist measured 17 chubby inches, so I cut the elastic to 14 inches) Sew the elastic into a loop. You can either use a sewing machine (use a zig-zag stitch to make sure it's secure) or hand-sew it together.
Before you sit down and get serious with the tulle, take a moment to play peek-a-boo with your sweet girl
Note to friends: tulle is a pain in the tush. It's not easy to cut, not super easy to work with. And it will get caught in your wedding rings. All. The. Time. (so take those pretty things off and set them in a safe place!)
The nice thing about tulle is that it's super forgiving. So don't stress that your cuts aren't perfectly straight.
I bought my tulle for 33 cents a yard after Christmas. Score! By the bolt is probably your cheapest bet (at most, it'll be $2 a yard) but like I said, the roll would be really handy. Your call.
I cut my tulle into strips 6in wide by 18in long.
I wanted it to be mostly white with bits of pink and red showing through, so I used a ratio of 3:1:1
To tie the tulle to the elastic band, fold two strips of tulle in half and place the loop under the elastic as shown. Pull the ends through the loop, and tighten the knot.
Two white, a pink and a white, two white, a red and a white, etc.
It's kind of hard to keep the elastic from twisting as you add new knots, so find a way to keep the elastic taught. If the waistband is big enough, you can stretch it over the back of a chair or use the lingerie hooks on a hanger. Since Kayleigh's waist isn't big enough for that, I just stretched it over my leg.
But you definitely don't need a picture of that.
Keep adding the tulle, two strips at a time, until you reach the desired fluffiness.
Don't you love it?!?
Next, I made a matching headband using leftover scraps and some elastic lace.
(I didn't take any pictures because it was sheer trial and error, but I love the way it turned out!)
Take a strip of pink tulle (3x10in) and sew a line right up the middle, lengthwise (so there should be 1.5in on each side of your needle.) Once you get to the end, pull the thread tightly to make a little pompom. Tie a knot and cut off.
Next, take a strip of white tulle (4x10) and fold it in half so that it is two inches wide. Sew along the two edges all the way. Pull the thread tight, tie a knot, and cut off.
I sewed a pearl button to the center of the pink pompom, and then sewed the pompom to the white pouf. Then, I sewed the whole thing onto the elastic lace. So simple and pretty!
Then, take your cute little sweet heart, and do a photoshoot :)
(Remember how I said I love Shutterfly? I received coupons for 10 free cards, so I whipped this cute little valentine up. And guess what? When I ordered the cards, there was a note saying that if I shared my project on my blog, I'd get $10 toward my next purchase! So...this has nothing to do with the tutorial, but I thought that was pretty great!)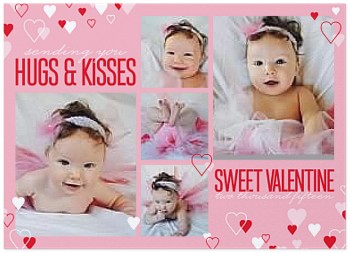 Join me tomorrow to decorate a beautiful serving tray!
Pin It