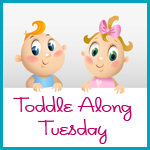 I'm linking up with Mama G at Growing Up Geeky today to share some of my favorite clothes that Kayleigh wears :)
We were incredibly blessed to receive so many outfits for Kayleigh before she was even born. I'm so thankful for that, because I would make us go broke buying cute things for her our budget is pretty tight.
This was my very favorite Newborn size outfit. I loved that the friends who gave it to Kayleigh knew that I loooove strawberries, and I just thought that this onesie with the matching hat and pants was just the cutest! Looking at this picture makes my momma heart hurt for my poor little newborn, though. Being born face-up, forehead-first really did a number on her sweet face.
This was another newborn favorite--one of the only things I've actually purchased for her! And it was on sale at Target for $3.88. How do you beat that? Plus, it has parachuting dachshunds! Irresistible :)
This sleeper is really sweet, too. Zebras and monkeys in party hats? Yes, please!
One of my student's families gave Kayleigh this beautiful little Janie and Jack dress. I absolutely love it! It came with a sweet little pink cardigan, as well, but it was a little warm the day we took this picture.
Obviously, this one isn't every day wear, but I treasure the
gown
my mom made for Kayleigh's baptism. It is such a special thing--a family heirloom, for sure.
Kayleigh had 2 different Christmas outfits this year. I loved them both--and just ADORED the little BabyGap mary jane tights!
Haha, and just for fun! Frou-frou little Santa Baby tutu from Kayleigh's Yiayia (Handsome Man's mom)
It's so much fun to dress a little girl up!
♥ ♥ ♥